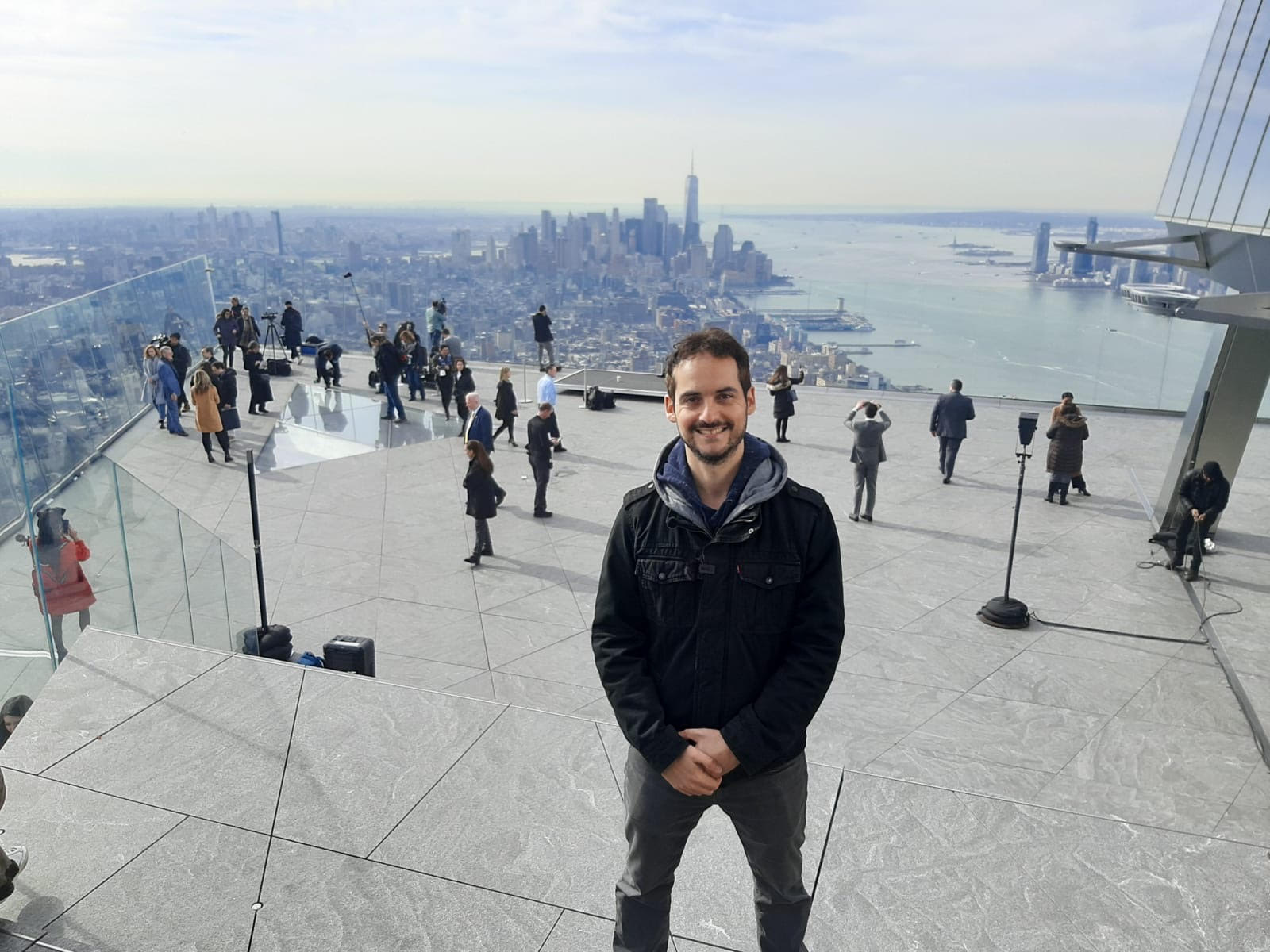 Anyone that lives in or near New York City has seen it all.
The Statue of Liberty, Times Square, Central Park – They're all just common fixtures in the backgrounds of all of our Instagram photos in 2020. The City was desperately craving something new and adventurous to appeal to a new audience.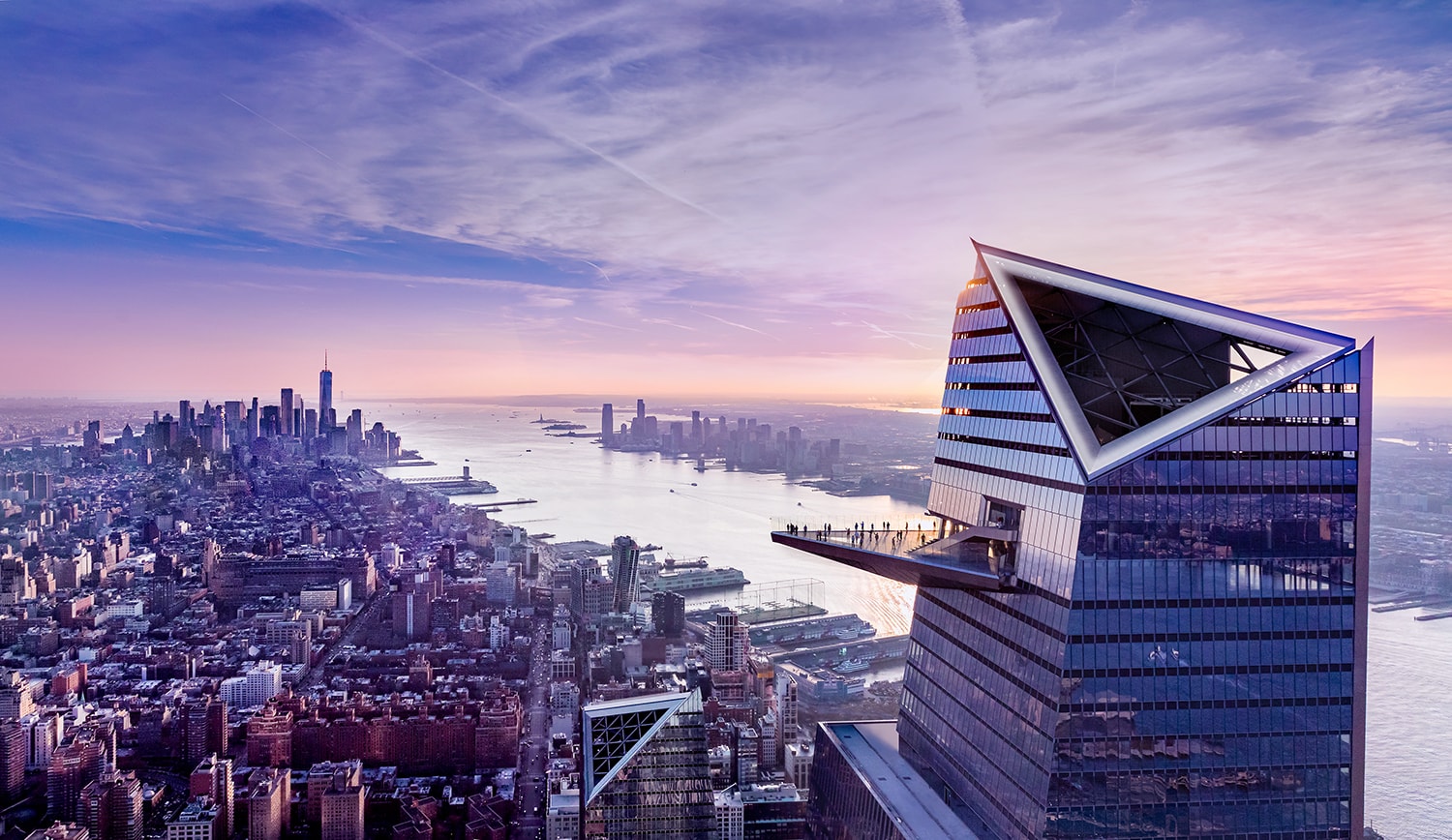 That's where Edge NYC enters the picture.
The Edge isn't just unique to New York City. In fact, there's nothing else like it in the entire Western Hemisphere!
We're about to review some of the key features and highlights of visiting Edge NYC and let you know whether we think it's worth the visit.
WARNING: Turn back now if you're afraid of heights.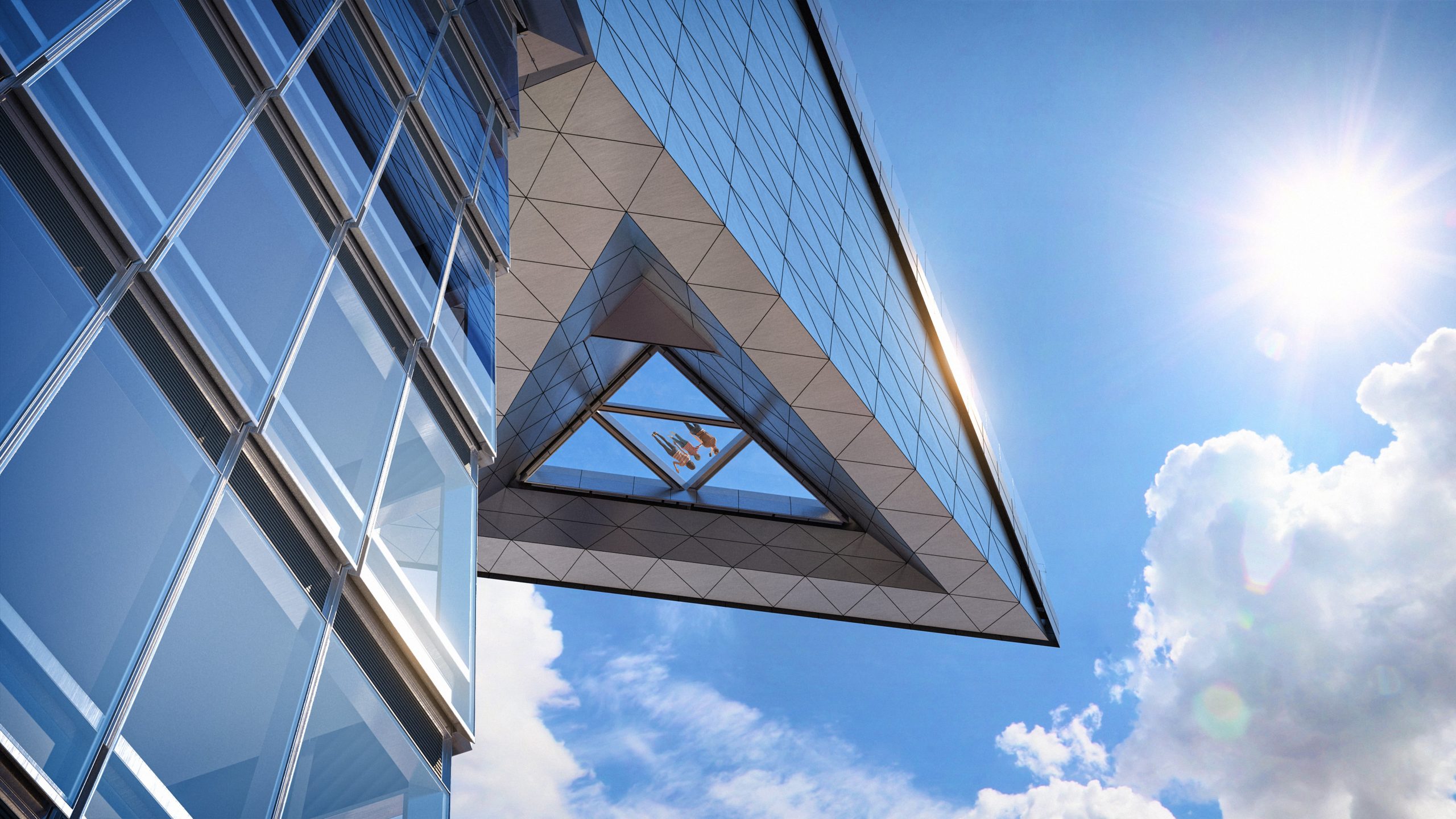 The Key Features of Edge NYC
When you visit the Edge in Hudson Yards, you'll find yourself on what's advertised as the highest sky deck in the Western Hemisphere.
Unique Views of New York City
At 100 stories above the streets of New York City, you'll be given prime panoramic views of the entire city, which makes for great photos with the friends and family that you're visiting with. With 360-degrees of views, you can walk the entire perimeter of Edge NYC and see the city from every angle possible.
Off in the distance, you'll be able to view The Statue of Liberty, the edges of Central Park, and nearly every other landmark native to Midtown Manhattan. You've seen the city hundreds of times before, but never like this.
The Edge is definitely not for the faint of heart! Not only will you be hoisted 100 stories above the streets of Manhattan, but you'll also be able to look directly down at the street below you through Edge NYC's entirely frameless glass floor.
Yes, you heard us right! You'll be 1,100 feet in the air and up to 80 feet away from any immediate support structure.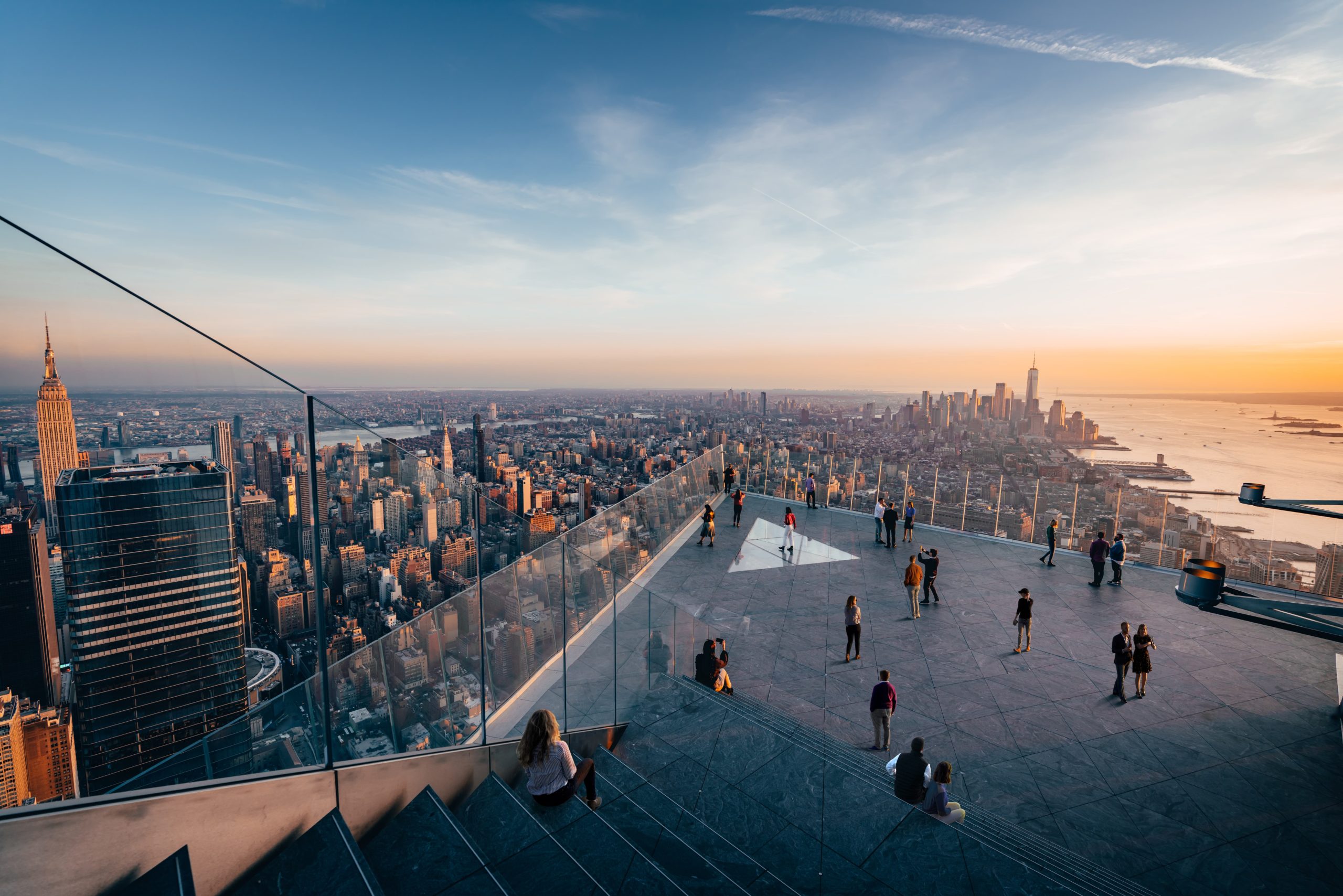 The Edge Bar
Now, there's nothing like a little liquid courage when you find yourself towering over the streets of Manhattan. The Edge offers its own bar on the 101st story of the building, right up the stairs from the most beautiful view in New York City.
While at Edge Bar, you can hang out with friends and family, enjoy a peaceful glass of champagne, and take in the magical views of the city around you. It's a fantastic place to lounge and relax while on your adventure.
The Eastern Point
If you consider yourself to be a bit of a daredevil, you'll absolutely love the idea of "The Eastern Point" at Edge NYC. When you find the courage to walk over to the furthest most point of the Western hemisphere's tallest sky deck, it'll be you and you alone!
The Eastern Point has just enough space to fit one tourist at a time. You'll be nearly completely surrounded by glass walls, the only thing between you and the rest of Manhattan.
This is the perfect spot to take your next breathtaking panoramic photo to share with your friends on social media.
Outdoor Seating
You're spending the money on the tickets, you might as well make the most of them! Edge NYC offers plenty of outdoor seating, perfect for the entire family or group.
That means you can take the time to kick back with friends, enjoy a nice glass of champagne, and appreciate the weather and the view that you're getting at Edge NYC!
Types of Tickets
Like nearly every other tourist destination in the city, there are different levels of tickets that'll get you access to more perks and benefits. For the Edge, there are four types of admission.
General Admission
With a general admission ticket, you'll select a day and time that you wish to visit New York's newest tourist attraction. When you purchase this ticket, you'll have full access to all features of Edge NYC as long as you arrive at your scheduled visit time. You'll also receive a nice souvenir photo to remember your trip with!
This will cost less than $40.
Flex Plass
You have a little more freedom with the Flex Pass. Though you'll be getting all the same features of the general admission ticket, you now have the ability to arrive anytime on your scheduled visit day. You'll have to shell out a little bit more money, but there's less rushing around and you have more time to sit back and enjoy your visit to New York.
This will run you less than $60.
Champagne Admission
For anyone over the age of 21 looking to have a little more fun while at the Edge, the Champagne Admission might just be the perfect option. You'll once again have to schedule a visit time as you would with the general admission ticket, but you'll get a free glass of champagne with your ticket purchase!
Each ticket averages about $50.
Premium Admission
For the most expensive, yet all-inclusive ticket to visit "Edge" , the premium admission ticket will get you everything. You can arrive whenever you want on your scheduled day, enjoy a nice glass of champagne with your friends, and even receive a personalized photo book to remember the trip by.
This will cost you almost $100.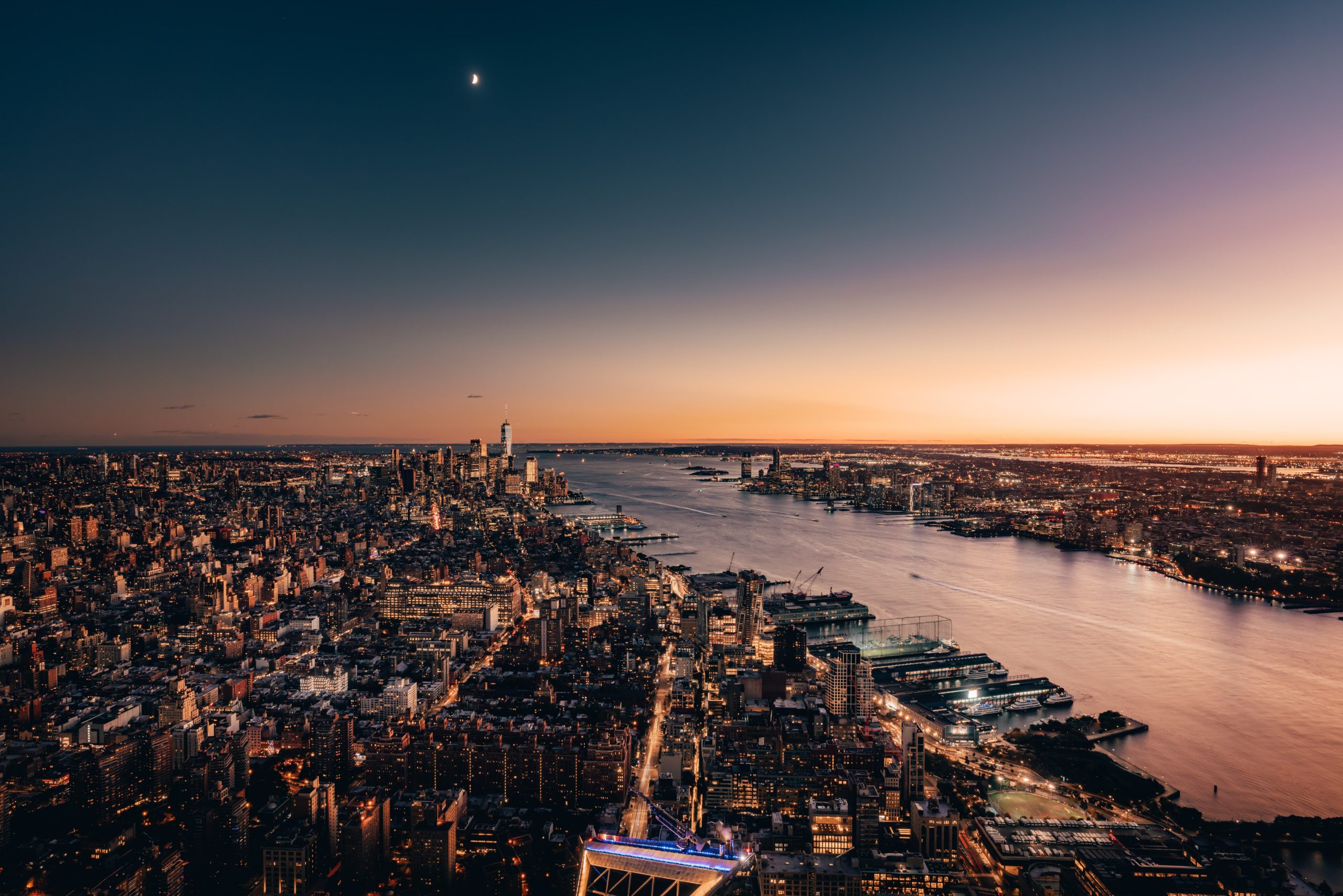 What to Expect
Now, we recently documented our most recent trip to Edge NYC. Along the way, we took note of the astounding views and highlighted what you should expect on your visit to Edge NYC.
The Ride Up
Not everyone enjoys elevators, but you'll be pleased to know that the elevator ride up to the 100th story that hosts the Edge is only about 60 seconds long. While on the ride up, the walls of the elevator actually display the process of constructing New York City. By the time the city is done being built in the graphics on the elevator walls, the doors will open and you'll be at Edge NYC.
The Glass
We already prepared you for the glass floor and the glass walls, but there's a little more to each! The glass walls are actually angled outward in a way where you can somewhat lean forward and get a more expansive view of the streets below you.
We mentioned the Eastern Point already, but it's truly a sight to be seen. When you approach this area of the Edge, it'll be difficult to even see the connection between the two pieces of glass creating the corner. It's truly an exceptional view.
The Stairs
When you just want to take a seat and appreciate the views provided by Edge NYC, you can find your way up the stairs and into the seating area. Ahead of you, you'll be able to see a huge portion of Manhattan, including One World Trade Center. We highly recommend that you take the time to sit on the stairs.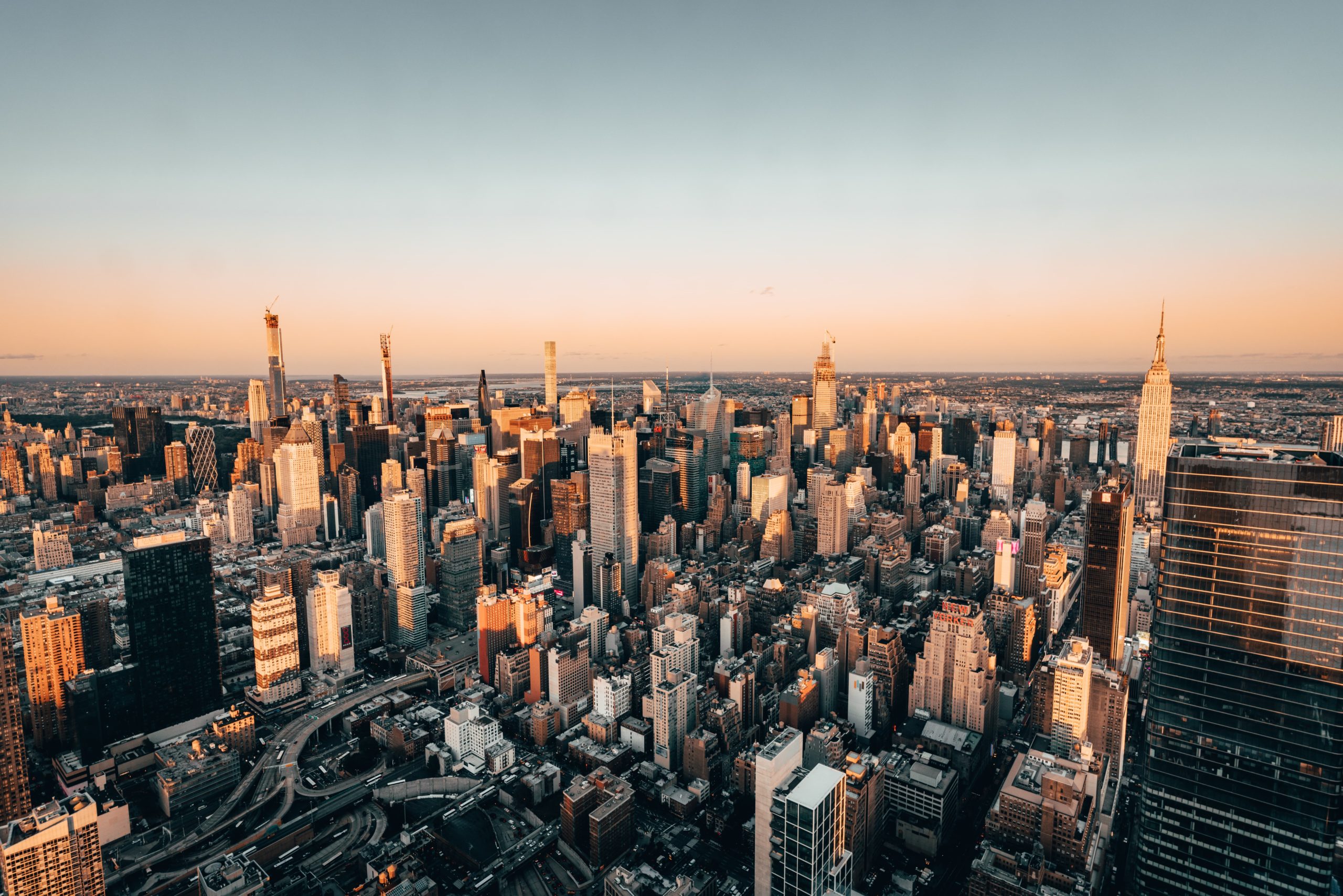 Event Hosting
It's hard to set your event apart when you live in New York City. You've probably been to tons of parties, receptions, and gatherings in the most unique locations across the city.
Well, the good news is that Edge NYC offers event hosting that'll allow you to host an event that your family and friends will never forget. In addition to having access to the lounge and bar area of Edge NYC, your guests will also be able to take picturesque photos with the Manhattan skyline as the backdrop.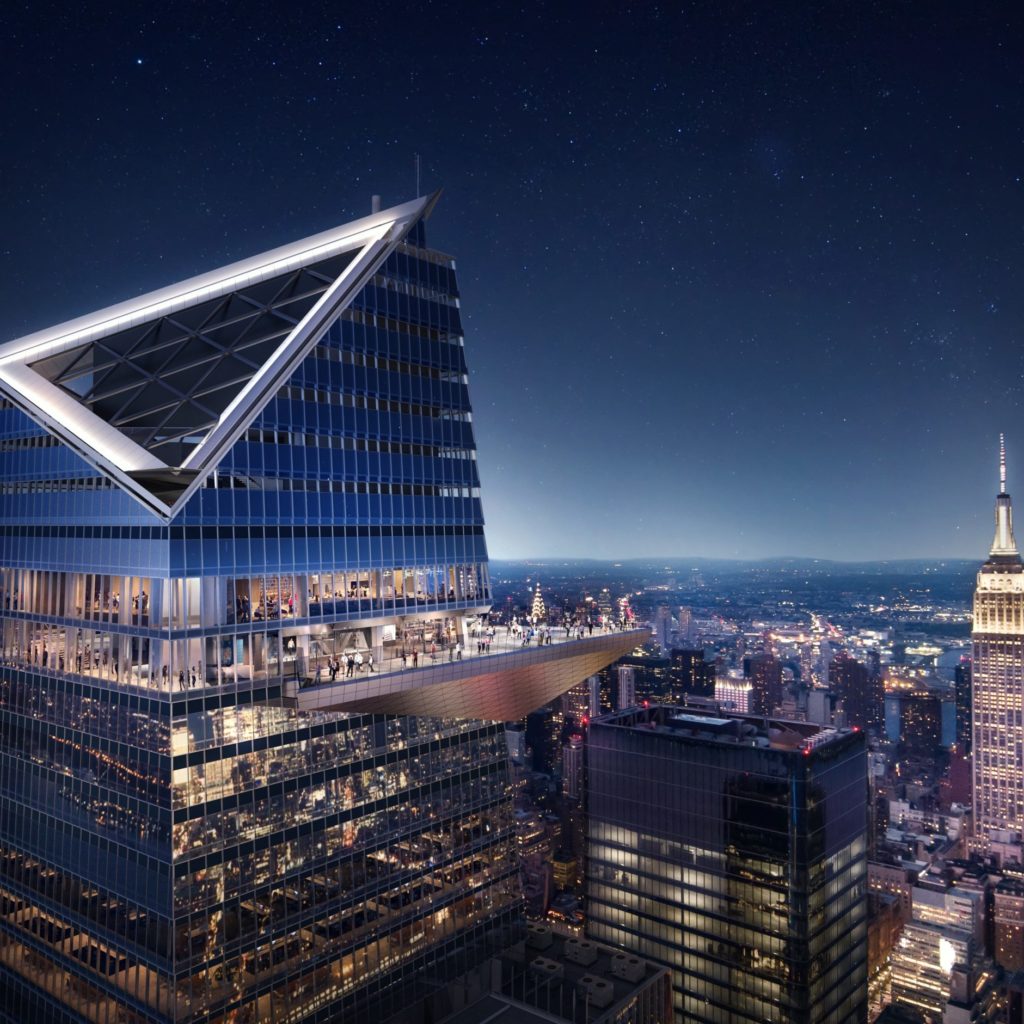 Other Things to Do
So, your trip to New York City has gone off without a hitch thus far. But, while you're here, you want to make sure that you're getting the most from your trip.
Lucky for you, the Hudson Yards section of the City is absolutely loaded with incredible tourist attractions and things you won't see back home.
Food & Drink
Some parts of the City are recognized for their impressive fine dining options available to tourists and locals alike. Hudson Yards actually has some of the most diverse food options in the city, though it'll cost you a bit of money to enjoy a delicious meal with your friends and family.
If you were hoping to share a meal at Edge NYC, that'll officially be in the cards in the Spring of 2020. One story above Edge NYC on the 101st floor, you'll have immediate access to a high-end bar, restaurant, and lounge to top off your visit to Edge called Peak.
Local Art (The Vessel)
There's absolutely no shortage of art in New York City, and the Vessel is one of the coolest pieces of art you can see (and use).
The Vessel is constructed of 154 staircases, combined in a way that allows you to get a unique panoramic view of the city (though not as intense as Edge!). Though you'll have to have the energy to put in about 2,500 steps, the view of Manhattan while at the top of this piece is truly captivating.
Fun Local Attractions
Now, your trip to Manhattan doesn't necessarily only involve panoramic views of the city from way up high. There are plenty of other local attractions and places to visit in NYC that you might want to take advantage of while on your trip.
Here are some examples of local attractions in the Hudson Yards area.
We suggest making the most out of your trip down to Hudson Yards. There are so many things that you and your family can do and make the entire trip even more worthwhile.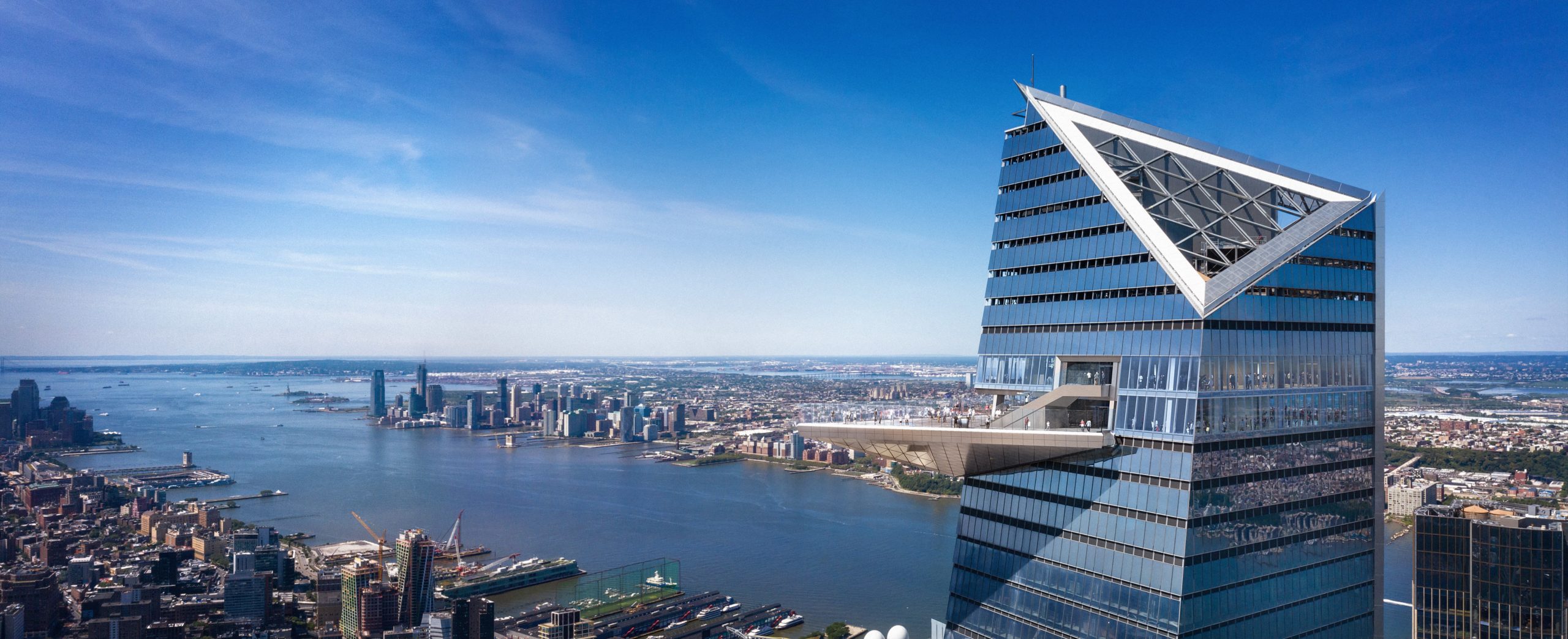 Final Thoughts
Many places across America are now providing tourists with overlooks and panoramic views, but very few actually compare to the views that you'll be getting at the Edge .
The tickets might be a little expensive, but you'll be getting photo opportunities and a pretty unique experience that you won't get anywhere else in the City.
I mean, where else in New York can you look through the glass floors below you and see the Manhattan streets 100 stories below? Where else can you be completely surrounded by glass 100 stories above New York City?
There's no place in New York or even anywhere in the Western hemisphere that'll provide you an experience that's even close to this. Edge NYC has truly set the standard for what it means to be a solid tourist destination. You should definitely give Edge NYC a try if you're tired of the same old tourist attractions in NYC or enjoy taking photographs.